With the STC eSIM, you can use a mobile number without inserting the physical SIM card into your phone. Here is the procedure to buy, convert and activate the STC eSIM in Saudi Arabia.
Buy a new STC eSIM
There are 3 ways to buy an STC eSim and the most convenient one is to buy it through the mystic app.
In order to buy a new STC eSIM from the mySTC App;
Click on the "Store" tab at the bottom.
Select "Voice & Data SIM".
Select the type of SIM i.e. "Postpaid or Prepaid".
On the next page, select "Use eSIM".
Now the mySTC app would request you to select the package and make the payment for the eSIM.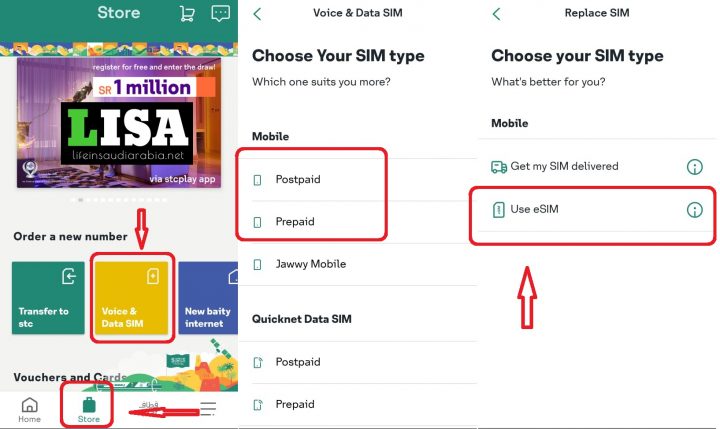 Convert existing STC SIM to an eSIM
If you are already an STC customer, you can easily convert your existing SIM card to an eSIM through the mySTC app. In order to do that;
Login to your mySTC account with the STC SIM.

Click on the "Manage" button on the home screen.
Press the "Manage" button again.
On the next screen, click on the "Primary SIM".
Now select the option "Replace SIM".
Press the option "Create an eSIM now" on the next page.
On the last page, select the appropriate STC eSIM package and proceed with the payment.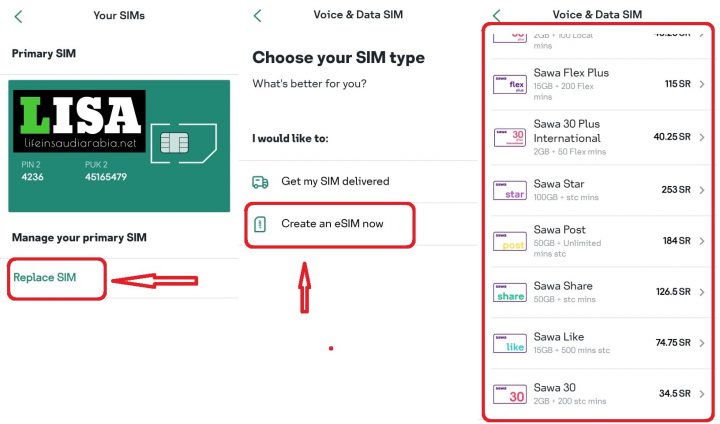 Activate STC eSIM
In order to activate the eSIM make sure you have an active internet connection in your mobile;
Scratch the QR code in the voucher.

Follow the step-by-step guide on the screen.
It is important to note that in case you change your mobile phone, you will have to cancel the current STC eSIM and order a new one for the new device.
STC eSIM Price
The STC eSIM price or cost is;
SR 28.75 for prepaid customers.

SR 57.5 for postpaid customers.

In addition to that, you will have to select the appropriate STC eSIM package.