When you think of the Kingdom of Saudi Arabia and scams, you would think that a country with such strict punishments and a set of rules would have no scammers at all. However, this is not the case.
With the rise or boom of social media and the internet, scamming has also been on the rise. We admit that the smartphones and the internet have made our everyday lives very easy by making communication extremely easy. They have also however provided the scam artists another platform to harm the common people easily.[irp]
Below are some of the extremely popular scams in the Kingdom of Saudi Arabia which have targeted and victimized hundreds and thousands of people. These are however not all the schemes and scams going on out there;
1-THE FAMILY VISA SCAM: The scammers will probably tell you that they have a source inside the Istiqdam and that they can get you a permanent family visa in only a few days. Although if true there could be nothing better, however, it is neither possible nor true.
The scammers will usually ask for the money upfront and will proceed to tell you what a great feat he will be achieved as the regulations are extremely tough and the prices have also skyrocketed and will continue rising.
In most of the cases, the scammers or con man will just take your money and then disappear. In extremely rare cases they might get you a family visa, but upon arrival to Saudi Arabia, you and your family will face a lot of trouble. The authorities in the Kingdom are cracking down hard by checking salaries as well as degrees.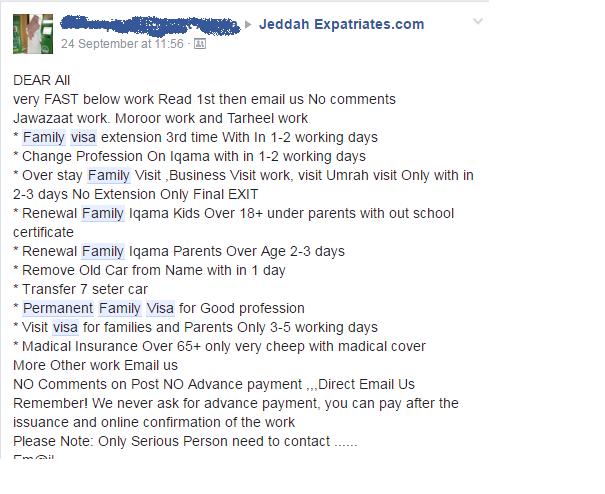 2-MOBILE SCAM: A lot of people can relate to this one. Most of us have gotten the call, with scammers congratulating us for winning a lottery; however, you would have to transfer them prepaid cards. These scam artists will also go to the extent of reading out your Sim serial number in a bid to win over your trust.
Once they have gained your trust he will provide you with a lottery number and will request you for recharge cards. Once you have read the recharge codes to the scam artist, game over.
3-OUT OF THE COUNTRY SCAM: Scammers might post an advertisement for an item or even a house. When you show them some interest, they will proceed to tell you that they are out of the country and will promise to deliver the goods or property when they have returned. You should always insist on renting or purchasing after you have seen the property or the item physically yourself.
4-THE PERSONAL DETAILS SCAM: The main aim of these types of scammers is to be able to extract any and all sort of personal details and information out of you. In order to do this, they will most probably put a condition on the item which they are advertising to sell.
For instance, if you happen to find an ad for a mobile at a very low price, the scammer, however, will ask you to provide your Muqeem card or Iqama as he wants to have something verified. Once you have provided them with the information, they can either use it in their schemes or have a sim issued under your information.
5-THE FACEBOOK QUIZ SCAM: You will literally see them every day one your Facebook homepage.  Your friends doing quizzes such as which celebrity or athlete are you like the most; you get what I'm talking about.
When you will take the quiz, the application will ask for permissions. Be very careful when agreeing to the permission for your information. Several of the quizzes have been now exposed to collecting personal information from the Facebook accounts and also providing them to a third party.
6-SOMEBODY WANTS TO SHARE A FORTUNE SCAM: You will probably get some email from a lady in Africa. "She" will tell you a story that they are paid in the form of money orders but face difficulty cashing them. They will proceed to ask you to cash the checks for them and then wire the money to Nigeria.
If and when you agree you will receive several money orders which are usually bought for a small fee of SAR 100. What you do not know however is that the money orders are fake. You will easily cash out these money orders and then send the scammers the money via an irreversible process such as Western Union wire.
A few days might pass and the victim will receive THE phone call from their bank informing them that all of the money orders were falsified and the total amount of the money orders are now due to the bank by them.
7-FAKE RENTAL SCAM: Scammers will take several legitimate and real listings which anybody can easily find on the classified websites or in the classified section of the newspapers. When you will call the number which has been provided, the scammer will ask you for a security deposit or wire transfer up front.
Golden Rules to avoid any kind of scam in Saudi Arabia: Here are a few vital rules which you should most definitely live by in order to remain safe from being a victim of any and all scams;
1-If the deal sounds too good to be true, then most probably it is too good to be true
2-You should under no circumstances pay anything upfront. Unless to a highly reputable certified website. (most websites do not ask for money up front)[irp]
3-You should never provide any of your personal details or information to anybody or website. The personal information will include the information related to your bank account, your credit card and the information on your Residence and Muqeem card as well.
4-Any and all schemes to become really rich really fast will probably get you into really big trouble.