Check out the list below of the 12 best ice creams in Riyadh and sort out which ones you want to try first!
Cereal Protocol
The best place for enjoying ice cream in Riyadh without a doubt is Cereal Protocol. If you want to fulfill your sweet craving with fruit-flavored ice creams, then this is a place for you.
When you can't decide among flavors, opt for mixing the flavors and enjoy a blast of flavors. You can even get cereal mixed in your ice creams!
Etna Artisan Gelato
Etna Artisan Gelato has the best variety of ice creams in Riyadh, with the best flavors. It becomes difficult to decide among those 60 flavors they offer. The most famous of their flavors is the ginger gelato cup with caramel milk tea and cinnamon sticks. 
Giovanni L Gelato
Giovanni L Gelato is the definite best place for ice cream in Riyadh! They offer high-quality ice cream with no preservatives and artificial colors. Healthy ice cream with the best taste has to be the best ice cream in Riyadh!
They also have vegan options so that vegans and lactose-intolerant people can also enjoy ice creams! Do try them and they won't disappoint you from service to ice cream! We would suggest you try out the walnut caramel.
Godiva
If you crave chocolates and ice creams, then Godiva is the place to go. They offer the best chocolate ice cream in Riyadh! Their chocolate sticky sauce is the best ever! They fill the waffle cones with nuts and chocolates which is so tempting!
Ice Cream 36
Ice Cream 36 is one of the best places for ice creams in Riyadh. They offer so much in such a fancy parlor. The place is so catchy with ice cream colors popping.
The cotton candy ice creams are famous among the kids while the blueberry cheesecake has our verdict as one of the best ice creams in Riyadh!
Ice Cream Village
The local's favorite spot for ice cream in Riyadh is the Ice Cream Village. It is the most famous ice cream of the Saudis in Riyadh! They offer so many fruit flavors that it becomes difficult to decide upon one.
So, you can ask for the mixed flavor to enjoy them all! They also serve waffle ice creams which are irresistible.
LaChino Ice Cream
LaChino has the variety, flavor, and all you have ever asked for in ice creams. Their Kinder Bueno tops our chart. The topping of chunks of Kinder chocolate gives a unique ice cream experience! 
The best part is that they know how to make your special days even more special by offering catering at weddings and special events.
M'Oishi
If you want to try fancy, yet yummiest ice cream, this is the best place then! They offer ice creams with true Japanese ingredients. Unconventional tastes with a touch of finest and delicacy are what they deliver.
You would be blown away by the menu which offers yuzu, salted caramel, strawberry, matcha green tea, acai, and much more.
Nine Soft Serve
The best place for vegan ice cream in Riyadh is the Nine Soft Serve. They have the most attractive and tasty ice creams.
The watermelon ice cream and the coconut gelato in coconut shell are award-worthy ice creams! They are the most pocket-friendly ice creams ever!
Sayaki
Fancy, tasty, delicate what else? What a fancy parlor with Instagram-worthy ice creams, with Japanese touch! They have the best ice creams ever!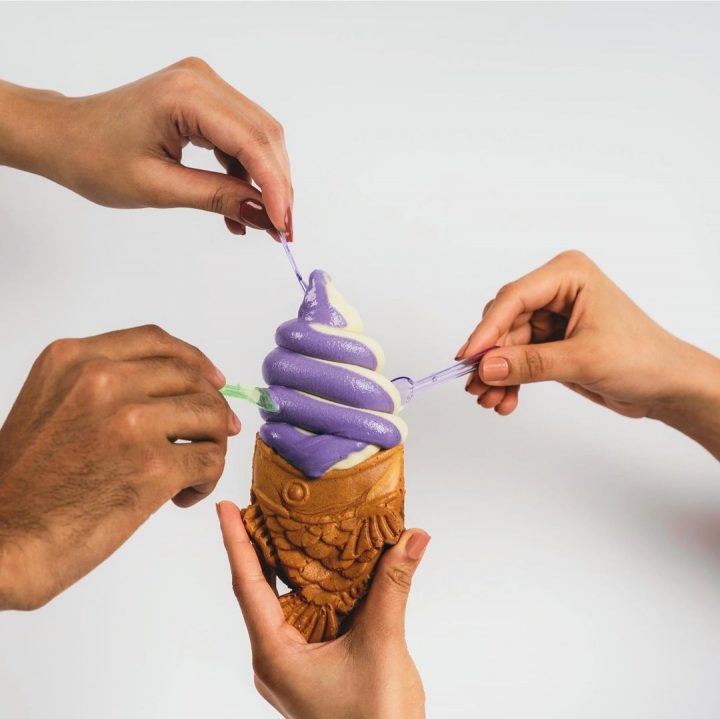 Superano
Well, it is a delight to see the ice cream topped on the cone in swirls. For kids, I would recommend cups. They have the best ice creams in Riyadh, which are just under budget!