People who have entered the Holy Kaaba have described the following 10 things from inside which everyone should know about.
Table inside the Kaaba
A small table is set between the first two pillars inside the Holy Kaaba which is used for the placement of perfumes or other items which are used for cleaning and perfuming.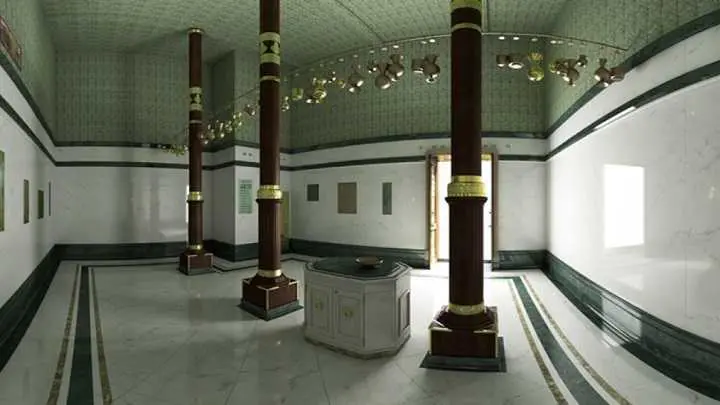 The wood
The wood used in the interior Holy Kaaba is the strongest wood available which was put by Sahabi Abdullah bin Zubair رضي الله عنه.
The Pillars
The interior of the Holy Kaaba consists of three wooden pillars which help to hold the ceiling of the Kaaba. The perimeter of each wood column is 150 cm and the diameter is 44 cm.
Every column's wooden base is square in shape and between these three columns, a pillar is present from where the gifts of Kaaba are suspended. The pillar passes through all three columns. 
The Floor
The floor of the interior of the Holy Kaaba is made up of marble and most of the marble is white in color, but some are colored.
Walls of the Kaaba
The walls of the interior of the Holy Kaaba are decorated with colorful and emblazoned marble.
The curtain
The Holy Kaaba's interior is covered with a curtain of red silk that has a texture of embroidery with the embossed name of Allah. This red silk curtain also covers the ceilings of the Kaaba.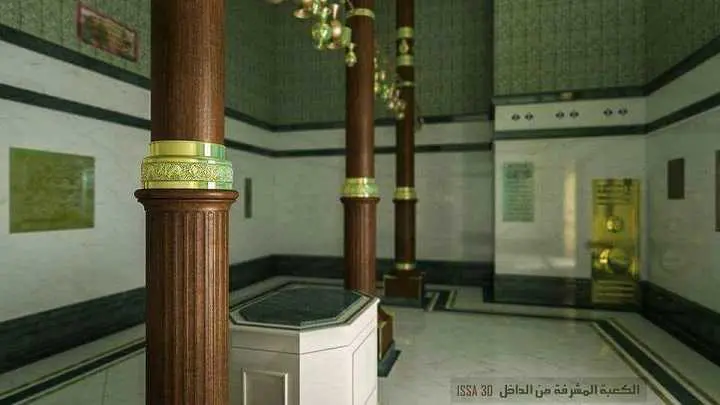 Decorative stones
There are stones are decorated with beautiful Arabic calligraphy done using the script of Thuluth in the interior of the Holy Kaaba. One stone is decorated with Arabic calligraphy using the script of Kufic. 
The words embossed on the stones are made up of colorful and precious pieces of marble.
These words are written after the sixth century (Ah). The total number of stones inside the Holy Kaaba is ten and the material is a marble.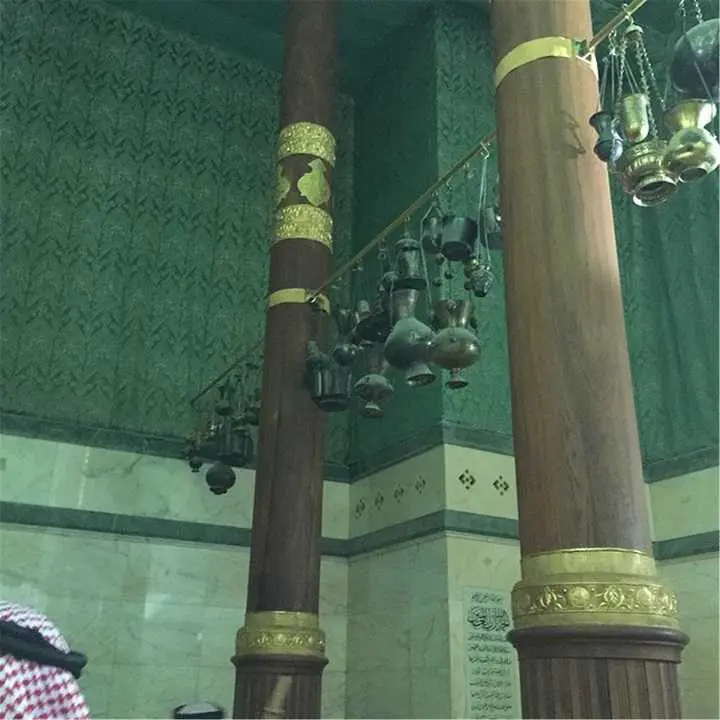 The Stairs
The right side of the interior of the Holy Kaaba includes stairs that lead toward the hatch.  The right-side interior of Kaaba which is Levantine corner has many resemblances with an enclosed structure having a rectangular shape with no window but has a special lock that goes towards the direction of the ceiling.
Door of the Kaaba
The Holy Kaaba door from the interior is covered with a curtain of beautiful silk curtain which has silver and gold prints.
Document hanging on the wall
Between the door of repentance or Bab e Tauba and Kaaba's door, in the direction of the eastern wall, a document of King Fahd bin Abdulaziz Al-Saud is printed on a board of marble. The document by King Fahd bin Abdulaziz Al-Saud indicates the renovation date.
Source: Al Arabiya